It is the day of love and we couldn't love more what conservative women accomplishing across the country! From media hits, to awards, to endorsements, to new jobs and more, here are 6 stories we are loving about conservative women this week.
New York Congressional Candidate Nicole Malliotakis Honored with Her Own Sandwich
Republican State Representative Nicole Malliotakis, who is running for New York's 11
th
congressional district, was honored by a Brooklyn deli with her own sandwich – a version of a Cuban – this week. Lioni's owner said, "it was a tough sandwich for a tough lady." Watch the full video
here
. 
Shelley Moore-Capito Featured on Barstool & 20 for 20 Podcast
The senator from West Virginia had a big media week, first getting a shout-out from
Barstool Sports
for asking why an important basketball game was available solely through a streaming service. Later in the week, Senator Moore-Capito joined the 20 for 20 Podcast to discuss the Democratic primary and more. You can find the full podcast
here
. 
Former UN Ambassador Nikki Haley to Receive Emet Award
The Committee for Accuracy in Middle East Reporting in America (CAMERA) announced that it is awarding former UN Ambassador Nikki Haley the
Emet Award
during a ceremony in New York City on May 3. This is the 31
st
year that this award is being given and has been given to those who stand up to anti-Israeli bias. For example, in 2018, Guatemala was honored for moving its embassy from Tel Aviv to Jerusalem.  
Female Republican Congressional Candidates Get Shout-outs from the President
In a round of Twitter endorsements this week, President Trump showed his support for the following female candidates:
Nicole Malliotakis
(NY-11),
Beth Van Duyne
(TX-24) and
Claudia Tenney
(NY-22). The race for 2020 is heating up now that primaries have begun. While there are record numbers of Republican women running for Congress, they still have to defeat primary challengers to move on to the general.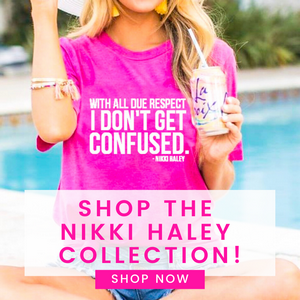 New York State Conservative Party Endorses Rep. Elise Stefanik's Reelection Bid
Congresswoman Elise Stefanik (R-NY) received the NYS Conservative Party's endorsement this week. In a
press release
, the State Party Chair said:
"Elise stands her ground and the nation is better off as a result. the Congresswoman is not only an articulate voice for the north country, she is a voice for all New Yorkers who want to reverse the ultra-left turn the house has taken. the Conservative Party looks forward to Elise's re-election and continued leadership." 
Stefanik's opponent, Tedra Cobb, received the
endorsements
of Democratic Party chairs in the district. 
Hope Hicks Returns To The White House In New Role
As you might remember, Hope Hicks left her role as White House Communications Director in early 2018. On Thursday, it was reported that she will be returning to the White House in a new role. This time, she will assume the role of counselor to the President and senior adviser reporting to Jared Kushner.
Never miss a Conservative Women Weekly! Sign up HERE to get it delivered straight to your inbox every Friday.
CABINET MEMBER
Karly Matthews is a student at Temple University, where she is majoring in political science and journalism while minoring in Spanish. At any given moment, Karly can be found talking about Marco Rubio and advocating for conservative values with a large coffee mug and color-coded planner in hand.