Image Credits: CNNPolitics
Here at FFL, there aren't many things we adore more than our red elephant skirts… and great news, they're finally RESTOCKED! The elephant skirt is a timeless piece that allows us to show our conservatism, style and sass wherever we go. What's not to love? The one thing that often sets us back, however, is finding different ways to rock it. Starting today, that is a problem of the past. Here are six different ways to rock your red elephant skirt in any (and every) setting.
1) The Classic

Whether it be for work, a conference, a meeting, or an interview – pairing your red elephant skirt with a white collared shirt and a nude or black pump is a great choice that shows your professionalism. As a conservative woman, we dress up often, so this classic look is a quick and easy way to look fabulous. The white shirt and nude heels remain neutral while the skirt adds a pop of color and a splash of sass.
2) Casual Tee

As conservative women, we love to spend our free time with fellow conservatives at political rallies or events. Often times, we're there to support a certain candidate while still looking polished. In those circumstances, the red elephant skirt paired with the candidate's t-shirt is the perfect solution. Other times, a plain white or navy v-neck tee will do the trick and leave you looking casual and cute.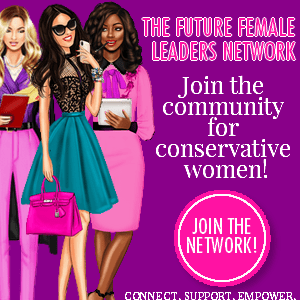 3) Denim & Booties

When it comes to casual days at school or a weekend trip to the mall, your elephant skirt can be the perfect fit. Pairing your red elephant skirt with a fitted denim shirt and booties is an adorable way to add a little country-sass to a preppy skirt. It's also a great idea to tie the denim shirt at the waist!
4) Sweater & Statement Necklace

Because I personally live in the cold state of South Dakota, pairing my elephant skirt with a sweater is my go-to on cold winter days. It is a look that keeps me warm yet still lets me look stylish for braving the cold.
5) Vest

Pairing the red elephant skirt with a black quilted vest is another great option for those living in the colder areas of the US. This will keep your outfit preppy and adorable, while still avoiding the chilly weather. Throw a white long-sleeved tee underneath and some grey riding boots on and you'll be golden.
6) White Jean Jacket

The white denim jacket is another timeless piece that works with just about anything – especially with your red elephant skirt. Throw your denim jacket over a white tank top and you're ready to go. Adding a cute pair of flats creates an adorable outfit that's perfect for various events in the spring or summer.
These are just some quick and easy ideas if you're stuck on styling your skirt. However and wherever you choose to wear it, we know you will rock your red elephant skirt with confidence.
FFL CONTRIBUTOR
Anneliese is a conservative teen from South Dakota that loves politics, music, ice cream, and Carly Fiorina. She hopes to inform and inspire women throughout the country to stand up for their God-given rights and stay strong throughout times of trial.