What if instead of being democratically elected as the nation's first president, George Washington was crowned the first king of the United States? This alternate-history contemporary novel imagines that. American Royals by Katharine McGee hits shelves September 3, 2019. If you like history, pop culture references, and imagining a different, but still really fascinating America, you have to check this book out. 
Let's talk plot, which pulls a lot from history, so some of this may ring a bell. King George VI is King and his three children–Beatrice, Samantha, and Jefferson–are all the ones to watch. Beatrice is in line for the throne. She is struggling under the weight of her future duties and, of course, the weight of her own heart. Samantha's feeling very much like the spare. She's acting out and getting into her own troubles, Prince Harry style. Jefferson, well, he's a heartthrob caught in a love triangle that just might get them all in trouble. The book is told through multiple POVs, including Beatrice, Samantha, Nina (Samantha's best friend), and Daphne (a social climbing socialite). There's palace intrigue, typical teenage gossip, worries about the future of the monarchy, and so many "OMG" moments you won't be able to stop. I read this book almost entirely in one sitting, which is a big deal for me. In fact, I haven't been able to stop raving about it. 
American Royals is basically royal Gossip Girl with a history twist.
Not only does this book provide a great story, but it also really gets you thinking about the history of our country and what had to play out to get to where we are today. 
As conservatives and people who love America, it's strange to think about another America, an America with kings and a royal family. Sure, we've got the Kardashians who probably get even more attention, but I'm fascinated by the British monarchy and the way people like Will and Kate are treated. Would that translate to American sensibilities? Would an 18th century American monarchy become a Constitutional monarchy eventually? What about the Civil War? In this book, slavery has ended, but the politics of it all were a little different, since the Washington line doesn't appear to have included ol' Honest Abe.  This book tackles some of those issues. Since it's going to be a trilogy, I hope it'll explore them more in depth. How different would DC be if there was a royal family, instead of a presidential one? Not that different, the book reckons. The fever around first families? Just imagine that from birth to death, not just during your teens. So much of this book is familiar, but cast in a new light–like the monuments, the musicals we know and love, the classes we take. It's not only written in a way that draws you in, it hooks you both with what you know and what you don't.
I often worry that we take our democracy for granted in the US. While the world of an American monarchy in this book is far from a dystopian state, it's still interesting to think about it. Is McGee being too kind to royalty, whitewashing the dangers of it, perhaps? Or is modern American culture really treating celebrities like they are royals anyway? What can we learn from other monarchies? How would our own political history be different if we had been ruled by a dynastic family instead of a succession of democratically elected presidents? Plus, I'm hoping in future books we find out just what an American royal wedding would look like. Maybe we'll even learn what other kings were like. Right now, it feels very inspired by British monarchy, but I would love to see a freedom-loving twist.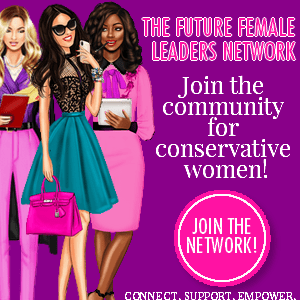 If you're fascinated by Meghan & Harry and Will & Kate and also weirdly into American history and also society novels, you've have to read this book. It's a great conversation starter about what our democracy does and does not grant us, and the cover is gorgeous.
American Royals is on sale everywhere September 3rd. Get your copy HERE! 
Future Female Leaders is a participant in the Amazon Services LLC Associates Program, an affiliate advertising program designed to provide a means for us to earn fees by linking to Amazon.com and affiliated sites.