This week we have a lot of ladies to recognize in this week's installment of Conservative Women Weekly. Here are four conservative women who stood up for themselves, others, and their country this week.
Former Ambassador Nikki Haley releases new book With All Due Respect
Ambassador Haley's book, With All Due Respect, was released on Monday. Over the sound of the FFL ladies' screams of excitement, you may have also heard Haley across news outlets this week, promoting her book and discussing personal accounts of her time in public service. In these interviews, Haley recounted her time as Ambassador to the United Nations, including the
backstory
to the book's title
With All Due Respect
. That phrase, initially given as a defense of her integrity
when White House advisor Larry Kudlow accused Haley of being "confused,"
has become a rallying cry among Haley's supporters — including us here at FFL.
In regards to her political aspirations, Haley said in many of these interviews that a year is a lifetime in politics. She went on to say she will make decisions one year at a time. We're excited about what Haley's future may hold and wish her the best!
Congresswoman Elise Stefanik named to TIME Next 100 List
Congresswoman Stefanik had quite a week. After firm clapbacks to not one, but two sexist remarks (
one
in which Stefanik was mistaken for a staffer and
one
which impugned her qualifications for her role, simply because she is a woman)
and
a day of
participating
in the intense impeachment hearings, Stefanik was named to the 2019 TIME Next 100 List. 
This list is
new
, an extension of the TIME 100 franchise, highlighting rising stars in their respective fields. Former GOP Speaker of the House Paul Ryan
penned
Stefanik's profile for the list, noting that, unlike her counterparts, Stefanik sees "the big picture when the crowd is scrambling to capitalize on the controversy of the day." He praised her accomplishments in office and in recruiting more women to run for office, concluding: "Elise isn't just the future of the Republican Party. She is the future of hopeful, aspirational politics in America."
Allie Stuckey testified before Congress on abortion
Allie Stuckey walked into the lion's den on Thursday. She spoke on behalf of the pro-life movement before the House Oversight and Reform Committee concerning "reproductive rights" and recent state laws that have sought to roll back abortion access. Stuckey, whose testimony was later branded as "harassment" by Congresswoman Kim Schrier,
delivered
a powerful case for life. She
explained
that she spoke before the committee as "as a woman, who believes that female empowerment, equality and freedom are not defined by her ability to terminate the life of her child" and as a woman who
believes
that "rights are not dependent on whether or not a person is 'wanted,' but on their humanity."
We are so grateful for women like Stuckey, who fearlessly defend our most vulnerable. Though the attempts to undermine her were many, but Stuckey showed grace, strength, and confidence in appearance before the committee.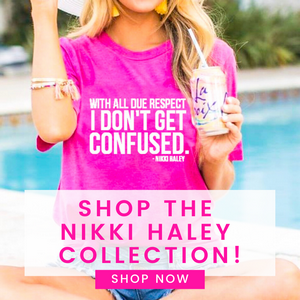 White House counselor Kellyanne Conway responds to CNN anchor's comment about her marriage
White House counselor Kellyanne Conway
appeared
alongside Wolf Blitzer on Thursday morning to discuss the impeachment hearings. Toward the end of the interview, Blitzer announced a final "substantive" question concerning Conway's husband, who spoke to television networks the previous day against the President. But Blitzer began his line of questioning with a caveat: that he didn't want to talk about her marriage because "I know that there are issues there." 
Conway gave a swift retort. She insinuated that Blitzer was using her husband's words as a tool to increase ratings: "What you just quoted is said every day by other voices, but you wanted to put it in my husband's voice because you think somehow that that will help your ratings or that you're really sticking it to Kellyanne Conway," she said. "And let me be very clear. You didn't stick it to Kellyanne Conway. I think you embarrassed yourself…"
Conway continued with a defense of the President to ensure that her visit was not solely marked by this unfortunate and unprofessional line of questioning.
Never miss a Conservative Women Weekly! Sign up HERE to get it delivered straight to your inbox every Friday.
FFL Cabinet
Liana is a follower of Christ and current communications student at Fairleigh Dickinson University. She enjoys writing, reading, and serving others.