Back by popular demand. Our Democratic Presidential Candidates As Songs was a hit, so now I present to you prominent Republicans as songs for your listening pleasure. You're welcome.
President Donald Trump: "Say My Name" by Destiny's Child

Whether you like him or not, you've mentioned President Trump probably 3 times this week. He keeps you talking, he lives rent free in your head, and you say his name.
Vice President Mike Pence: "So Will I" by Hillsong Worship

This doesn't need explanation. VP Pence is a precious gem of a man who loves God above all else and he must be protected at all costs.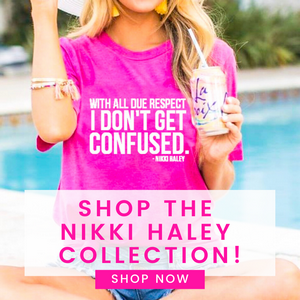 Ben Carson: "Slow Hands" by Niall Horan

This title is definitely more fitting than the song because you have to have slow, steady hands to be one of the best neurosurgeons of his time. 
President George W. Bush: "I Wanna Dance With Somebody" by Whitney Houston

W is known for his charm and the gif that continually circulates is of him dancing. He didn't have a care in the world and loves life for the ups and downs that it is. He is a national treasure and he never loses the charm we love most about him.
Vice President Dick Cheney: "Shot Through The Heart" by Bon Jovi
The opportunity was there and I took it. Too soon?
Nikki Haley: "Run The World (Girls)" by Beyonce

I can feel it in my bones. 2024 is the year of Nikki Haley. She is the gift that keeps on giving and she is the role model young women need. Plus, she just seems like a good time gal.
Condoleezza Rice: "Violin Sonata in D minor" by Johannes Brahms

This is a tribute to her 2002 performance with Yo-Yo Ma in a ceremony at Constitution Hall. Classy woman with a classical taste. 
Rudy Giuiani: "New York, New York" by Frank Sinatra

The man, the myth, the Rudy. The man who cleaned up New York City, made it safer, and held a broken city together after September 11, 2001. He deserves a well-liked song that represents his love of his city.
President Ronald Reagan: "God Bless the USA" by Lee Greenwood

I mean, I'm not sure there has ever been a president who has loved the United States as much as President Reagan. He fought for the spirit of this country and loved every person in it. He made all of us proud and that sense of pride beams throughout this song. 
Buzz Aldrin: "Fly Me to the Moon" by Frank Sinatra

We've had a Republican in space. I mean, my man was on the moon with the American flag. He is a staunch Republican and a great patriot to this country.
Gary Sinise: "Danger Zone" by Kenny Loggins

Gary Sinise, known best for his role as Lt. Dan in "Forrest Gump", is one of the greatest advocates for military personnel and support. He is constantly hosting events to honor our nation's best and runs a foundation that helps those returning home from war. 
Melania Trump: "Lip Gloss" by Lil Mama

I mean, Melania Trump is truly the coolest of the cool with the latest trends and such a beautiful wardrobe. We all want to be her best friend and sing this song with her.