The Left has many groups, and millions of dollars, dedicated to electing women who want to make abortion more widespread and bring socialism to America. But the right is fighting back, especially Maggie's List, to change the face of politics. Maggie's List is a PAC founded in 2010 to support conservative female candidates and many of the women they've supported as now representing their constituents.
Maggie's List take their name from the first woman ever elected to both houses of Congress. Margaret Chase Smith, known as Maggie, was elected to the House of Representatives in 1940 and served four terms. Then, she was elected to the Senate where she served another four terms. She also broke a major glass ceiling in 1964 when she was the first woman candidate for a presidential nomination by one of our two major parties. She was a Republican from Maine. To this day, she is the longest serving Republican woman in the Senate. Maggie's List is working to change that by getting more Republican and conservative women elected.
Some of the candidates endorsed by Maggie's List in 2018 includes Martha McSally in Arizona, Marsha Blackburn in Tennessee, Amata Radewagen in America Samoa, Young Kim in Calfornia, and Elise Stefanik in New York, among others.
Maggie's List puts their money where their mouth is. They don't slap an endorsement sticker on a candidate and go on their way. The money they raise is used to not only support female conservative candidates, but to train future candidates to be the best candidates they can be. They also help with Get Out the Vote drives. These drives can be critically important, especially in non-presidential election years.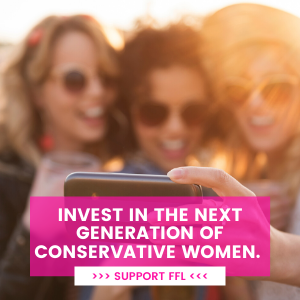 While Maggie's List is female-focused, they have also partnered with strong conservative men in Congress to support their initiatives. Some of these men include Congressman Charlie Dent, Senator Pat Toomey, Congressman Austin Scott, and others. These men know that the more fiscally conservative women we have in Congress, the stronger the party will be and the better ensured a fiscally conservative government will be down the line.
It can often feel like the left is dominating with their female candidates. Maggie's List and their candidates are proof that Democrats don't own womanhood and that conservative women have what it takes, and the support, to stand up to them. It's really hard for the Left to play the "woman card" when staring down a strong conservative woman.