We're in your inbox and on our social media timelines every Friday, summarizing wins of conservative and Republican women each week with Future Female Leaders' popular series, Conservative Women Weekly. Who are the women behind the screen that bring these stories to you? Let's meet the 6 authors of the Conservative Women Weekly series.
Liana Imparato: Ramsey, NJ

Liana

is a junior at Fairleigh Dickinson University in New Jersey and is studying communications. She is currently interning at the foundation for a regional hospital, focusing on composing content for a pediatric cancer research fundraising initiative. She enjoys reading and writing, and she especially loves writing for FFL about an array of topics ranging from her politics to her faith.
You can follow Liana on Twitter here.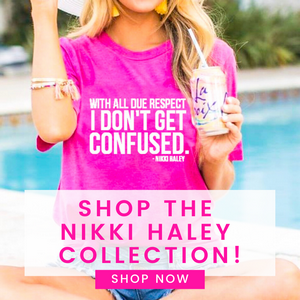 Natalia Castro: Jupiter, FL

Natalia currently works at a Washington, DC law firm as a lobbyist on the government affairs team. She represents federal law enforcement and good government groups and her primary policy focus areas are civil service modernization and criminal justice reform. Natalia graduated from George Mason University with a degree in Government and International Affairs in 2018 and hopes to pursue law school in the near future. She is the proud mom of a cat named Liberty and a ferret named Pompeii. She has a strong love for the Constitution, Florida, appealing to the center in political debates, guns, and musicals. In addition, Natalia is an ENFJ and a Libra.
You can follow Natalia on Twitter here.
Karly Matthews: New Freedom, PA

Karly is a senior at Temple University in Philadelphia where she studies journalism, political science and Spanish. Karly is a legislative advisor with the American Conservation Coalition, Co-Chairwoman of the Pennsylvania Federation of College Republicans, and former Chairwoman of Network of Enlightened Women at Temple. If she's not talking about conservative environmentalism or Representative Elise Stefanik (NY-21), Karly can be found drinking copious amounts of black coffee, answering emails or color-coding something.
You can follow Karly on Twitter here.
Jillian Kinder: Charleston, WV

Jillian is a senior at West Virginia University studying Industrial and Management Systems Engineering. She's passionate about debunking common beliefs about conservatism and about the Republican party and loves discussing energy policy with anyone who will listen. She would like to eventually work in transit management and/or transportation policy. You can frequently catch her holed up on the engineering campus talking policy, local politics, or freaking out about mass transit.
You can follow Jillian on Twitter here.
Elise Karstens: Scottsdale, AZ

Elise is a recent Political Science graduate at Arizona State University and calls Scottsdale, Arizona her home. She is currently working as a Regional Political Director for Martha McSally's campaign in Arizona and is planning to help get her re-elected to the U.S. Senate over the next year and a half. In her free time, she loves to read, cook, binge watch Netflix, shop, and study history.
You can find Elise on Twitter here.
Amanda Owens: Richmond, VA

Amanda founded Future Female Leaders during her senior year of college. She is passionate about entrepreneurship, women in politics and business, and empowerment. In her free time, she loves long walks down the aisles of Trader Joe's and spending time with her German Shepherd, Ellie. Amanda is a graduate from East Carolina's College of Business University and currently lives in the commonwealth of Virginia.
You can follow Amanda on Twitter here.
Never miss a Conservative Women Weekly! Sign up HERE to get it delivered straight to your inbox every Friday.