Every conservative woman needs a great lineup of podcasts to help get through the morning commute, long work days, or even as a pick-me-up. As women who are attuned to politics and what is happening in the world, finding a podcast that blends female insight and perspective with politics and world news can often be a challenge. Here are a number of politically oriented podcasts that we think are tailored for the conservative woman.
Pantsuit Politics

This podcast is hosted by two women, Sarah and Beth, who stand on different sides of the political aisle. They discuss the newsworthy stories of the day and provide a nuanced view into the world of bipartisanship and discussion. This podcast is great for anyone who is interested in multiple viewpoints on a particular subject. While the two women often disagree, they have an open and honest discussion about important topics. You can visit their website
here
, or check them out on iTunes
here
.
Wall Street Journal's Secrets of Wealthy Women

While this is not a podcast geared solely to conservative women, it has an entrepreneurial and empowerment feel. Each episode features a different woman who has become a success in her respective field. From business, to finance, to the world of non-profits, the WSJ provides an in-depth look into the background and stories of each of these women. This podcast focuses on financial freedom and empowerment. All in all, it encourages women to achieve professional success. Check out the WSJ Secrets of Wealthy Women page
here
, or subscribe on iTunes
here
.
Ladies, First

Previously featured
here
at FFL, Ladies, First explores the world and role of First Ladies, and their impact on their husband's presidencies. This podcast is essential because it focuses on the power of collaboration and bipartisan efforts to bring about change. While the traditional role of the First Lady has evolved over time, one theme remains persistent throughout: the grace with which these women carry themselves and their nuanced view of bringing about change in an ever-evolving country. Check out the website through the George W. Bush Presidential Center
here
, or on iTunes
here
.
Women Rule

From Politico, this podcast is hosted by Anna Palmer, where she features female bosses. They discuss advice for young women, and encourage women to take charge and lead. This podcast features women in business, as well as women from both sides of the political aisle. Women Rule is refreshing as it provides insights and a perspective that features all walks of life and political backgrounds. Each guest offers advice and guidance for young women looking to leave their mark on the world. Check out the Politico site that features the podcast
here
, or view the page on iTunes
here
.
Not Your Average Gun Girls Podcast

Hosted by two women who are advocates for concealed carry, this podcast inspires women to feel confident and encourages them to protect themselves. By providing women with the right tools and education to be self-sufficient and reliant, this podcast discusses everything from personal safety, to style, to self-confidence. Visit the Not Your Average Gun Girls Podcast website
here
, and check it out on iTunes
here
.
Life as She Knows It

While two previous articles (
here
and
here
) have been written on the LASKI podcast, I wanted to share it again with you for different reasons. A central focus of their show is about sexual assault awareness and prevention, but this podcast is also for the professional girl boss because it provides advice to help navigate the world. Kimberly Corban and Kirsta Rinehart share with listeners the trials and tribulations of adulthood, and why being confident in yourself is so important. Both women lean right politically, so they discuss topics such as concealed carry and personal safety with a different viewpoint than other, more traditional sources. Check out the Life As She Knows It page
here
, or subscribe on iTunes
here
.
Relatable with Allie Stuckey

Also known as The Conservative Millennial, Allie Stuckey breaks down current trends and news in an articulate and digestible way while giving a unique perspective of what's going on in the world. A big part of this podcast includes h ow her Christian faith guides her life. Her podcast discusses topics such as Christianity, guns and the government's role in society. Check out The Conservative Millennial
here
, or check it out on iTunes
here
.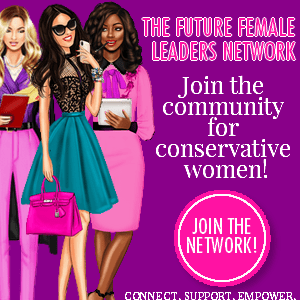 Skimm'd From the Couch

You've probably heard of The Skimm from their daily news email, and now co-founders Carly Zakin and Danielle Wiesberg provide a podcast featuring powerful female entrepreneurs, and their journey to success. While this isn't a partisan podcast, they give straightforward tips and advice for young women and give a skimmed version of how these women found their own unique success. This podcast is all about commanding your own narrative and creating your own story – a theme we all can get behind. Read about the podcast
here
, or subscribe on iTunes
here
.
Problematic Women

Showcasing conservative women, Kelsey Harkness and Bre Payton discuss the day's news, and talk about conservative ideals. Along with their Facebook Live, this podcast is perfect for the conservative woman because it combines the culture of today with an informative and center right woman perspective spin on the news. Check out the podcast on The Daily Signal website
here
, or subscribe on iTunes
here
.
LadyBrains

From Ricochet, this podcast covers everything from entertainment to politics, all while being completely honest and real! From a conservative perspective, these women discuss important topics of the day. In fact, they get into the weeds of some sensitive topics. It has rotating hosts of center right women and should definitely be on your list! Check out the website
here
, or subscribe on iTunes
here
.
FFL Contributor
Joleen is a Contributor at FFL. She enjoys reading, going to Chipotle, and drinking copious amounts of coffee. You can find her at the library, or studying for the LSAT. Her goal is to become a lawyer, and eventually run for public office. Her role models are Nikki Haley and Sandra Day O'Connor.