Image Credits: Winnie Au
It's almost been a month since former UN ambassador, Nikki Haley, released her memoir With All Due Respect. It became an instant New York Times bestseller and there have been many headlines about the political topics in the book. After reading the book myself, I found that there were many takeaways the media missed in their coverage. Beyond the headlines, there are great lessons women everywhere can learn from Haley's story. The former UN ambassador and South Carolina governor shows the world what a strong conservative woman is on the world stage and we're grateful for her leadership and for defending America with grit and grace. Here's 11 powerful lessons conservative women across the country took away from With All Due Respect.
On being different
Ambassador Haley has always been a strong woman but she dealt with feeling different throughout her childhood; and as someone who is an immigrant to the United States and moved to Utah, I struggled trying to fit in as a child. I was different in my faith and my race in relation to most people in the state, but instead of trying to be different, as Amb. Haley said, we both found similarities with the other children and avoided what separated us. This has helped me at school, in the workplace, and in the community, to find commonality with others to reach our goals. We are the United States of America, and even if many of us have different backgrounds, we can still find that common ground. – Frances, Salt Lake City, Utah
The power of listening
"A part of the book that really spoke to me was when Ambassador Haley visited South Sudan and Ethiopia. She met with women in a refugee camp. These women had been through unspeakable trauma, many having been raped, some repeatedly while one had her baby ripped out of her arms and thrown in a fire. Ambassador Haley listened to each of their horrific stories and comforted them. By listening to these women, she better understood the horror in which Kiir's government was inflicting on it's own people, then she took the Sudan leader to task for it. Ambassador Haley used the power of her voice to stand for human rights and help the women, children, and country of South Sudan." – Mary from Fairfax, Virginia
Being called "ambitious"
"As a young female in the political sphere I have often found it difficult to both share and be proud of my ambitions and achievements. Women are continually seen as "social climbers" or even "cheating their way to the top" when they succeed because people still have a hard time with the idea that women are hardworking and make their dreams a reality on our own. Ambassador Haley taught me to not only stand firm and but to be confident and comfortable act as a strong female regardless of what people think. To stay humble and kind yet not be afraid of having pride in our beliefs and accomplishments." – Bailey from Seattle Washington
Practice empathy
"Conservatives often get a bad rap when it comes to race relations, and some of it is deserved. Not every

conservative

leader flails in the face of racial hatred though. Some of them stand up. Nikki Haley's response to the Charleston Church shooting and the way she talked about it with such care in her book left me in tears. We need more empathetic leaders. We need people who know when to shut up and give a hug. We need people who aren't afraid to act and take down the Confederate flag when it becomes a symbol for someone's hate. We need leaders like Haley who show strength in the face of violence and I loved her insistence of never using the shooter's name. I hope we can all learn to do the same as we work to stand up against violence, especially race based violence." – Aryssa from Washington DC
Be direct
"Often, as women, we are taught to not be direct about what we want and think, to cushion that between assurances and apologies. Nikki Haley taught me that being direct not only saves time, but ensures that my point is understood and taken seriously. She's taught me that it's possible to still be polite and respectful while being direct and strong-willed when it comes to my wants and beliefs." – Stormi from Mission, Texas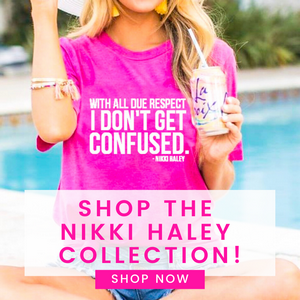 Stick to principles
In "With All Due Respect", Nikki Haley proves over and over that principle is more important than putting on a show. Former Ambassador Haley stood up for the founding principles of the United States even as she was brow-beaten by towering men and opposition to our country. She decided early on that she wouldn't become someone she wasn't because of what others want her to be. She doesn't apologize for her beliefs and she doesn't relent when attacked. I've learned from Ambassador Haley that being brave and being unafraid to stand up for myself and my beliefs is a core trait that helped shape her  in some of the most tumultuous and divisive times. She did what was right without worrying about criticism. That, to me, is a leader. – Caroline from Raleigh, North Carolina
Kick with a smile
"Ambassador Haley is tough, but she continually shows young women that you can be tough without stooping low with your adversaries. Instead, you can stand firm, show strength, and keep your dignity in tact. Sometimes, a simple "bless your heart" or even a "with all due respect, I don't get confused" gets the point across just fine and speaks volumes." – Amanda from Richmond, Virginia
On being underestimated
"Ambassador Haley shares in her book that she has always been underestimated and how she overcomes it. She goes on to say she's learned to like being underestimated, because it gives an opportunity to prove everyone wrong. Ambassador Haley taught me to keep my head down, tune out the critics, do great work, and let that work and accomplishments speak for themselves." – Laura from  Jacksonville, Florida
How to lead 
"Ambassador Haley stuck to her principles in times of uncertainty and conflict. She led by example while wearing her scarlet letter A for "Ambitious." She inspired a generation of young conservative women and taught us not just to be leaders in a time when they are desperately needed, but taught us to be ourselves, to use our voices, and to lead with grit—and grace." – Felisha from Austin, Texas
Use the power of your voice
"I am so grateful for Ambassador Haley's example, and even more so after reading this memoir. One of the most powerful themes in her book was about knowing and using the power of your voice, which has inspired me to be more vocal about the issues that matter to me. As we step into the 2020 elections, I hope more like-minded women raise our collective voices." – Jordan from Mississippi
Push through the fear
"From challenging a thirty year incumbent to standing up against the status quo in the state legislature, to running for Governor then becoming the Ambassador to the United Nations, there is no doubt that Ambassador Haley has pushed through the fear. Reading how she took on and embraced the challenges in her life and how they made her stronger inspires me to take on those challenges I'm fearful of. It's okay to have fear, but it's important to push through it. Great things don't happen inside your comfort zone." – Caroline from Richmond, Virginia
Get your copy of With All Due Respect, I Don't Get Confused: Defending America with Grit And Grace here.