Image Credits: AP/Pablo Martinez Monsivais
I still remember the day that the candidate I wanted to go on to be the GOP nominee dropped out. It was March 15, 2016. I remember this because it is the day that I voted for this nominee in the primary. It was Marco Rubio. I felt like I aligned mostly with him and that he could really take this country to where I wanted it to go. With his moderate voice and strong proposals for immigration and student loans, I felt like he was talking to the millennials that the GOP was desperately needing to reach. I still believe in Senator Rubio and his public service is something I admire. 
I was stuck. I didn't know who to vote for or who I liked. I wasn't set on deciding between the last few standing so I decided to wait and see who the GOP nominated at the GOP National Convention. When it was announced that Donald J. Trump was going to be our nominee, I was immediately off put. I didn't think he would live up to the promises he made and I definitely just kept my mouth shut.
Entering into the fall, I was debating where my vote was going. In fact, I was considering leaving that section of the ballot blank. But what I was watching was Democrats become more and more radical, I was watching the entire election turn personal, GOP headquarters across North Carolina were being vandalized, and Hillary Clinton's legacy of failed policies was truly scary. Her mishandling of classified information and her negligence on many important international happenings were not actions of someone who should be president. My #NeverTrump attitude was beginning to waver.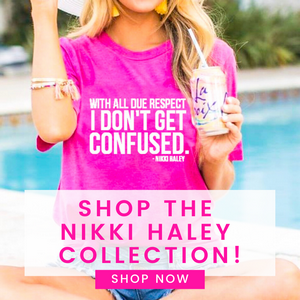 While I was on the fence about Trump, I was definitely anti-Hillary. She never represented me as a woman and I felt like she was using some faux-victim mentality to attempt winning women. I even walked around our NC State Fair and a Duke football game wearing a "Oh Hill No" shirt which got many looks as well as many high fives. 
I decided I wanted to vote early at 7:30 am on the last Saturday morning that early voting was open. I stood in line for an hour before finally getting to the ballot box. I decided, in that moment, I was going to cast my vote for Donald J. Trump. I took a deep breath and finished filling out my ballot before walking to the machine and inserting my ballot. I walked out into the crisp autumn air with a sense of relief. I voted with my brain and ultimately my heart.
I stayed up that election night thinking that we would be watching Hillary Clinton be inaugurated come January. But I woke up the next day to the news that Donald Trump would be the next president of the United States. I was shocked and happy. I was thrilled to see anyone who wasn't Hillary Clinton win.
I remember watching the inauguration with a sense of hope and excitement. Trump had made promises and I wanted him to keep them. Up until this point, I wasn't sure that he could. I thought his promises seemed almost too much like a politicians' empty promises.
I was wrong.
There is a reason why his website has a "promises kept" section.
Trump has delivered. 
He has been a leader on the international level.
ISIS literally is WASWAS. People give him flack for meeting with Putin and Kim Jong-un, but being diplomatic doesn't mean being friends. Trump is firm enough that I wouldn't toe a line with him. Any time a foreign leader has made threats against us, Trump gives them a friendly reminder, usually in a tweet, that America isn't the country to mess with.
Our economy is doing well. Unemployment is low across the board. Tax relief for the lower and middle classes paired with tax reform for corporations now have more money to spend on their workers. This tax reform has allowed me to keep more of my hard earned money. I was having a fourth of my earnings going towards taxes, but because of this reform, my fiance and I have been able to purchase a home.
President Trump promised that for every 1 regulation imposed in our economy, he would remove 2. Instead, what he has actually done is that for every 1 new regulation, he has taken away 22. That's not a typo. This is a massive accomplishment for our businesses, especially our small businesses.
President Trump has stood for life across the board. He is the most pro-life president we have had. He is pro-criminal justice reform and his First Step Act is truly a stance on life and second chances that no president has yet to accomplish – even all the ones who have promised reform. His support for gun rights is life saving for me, as well as others, who believe a gun is the only equalizer in dangerous situations. A gun could be the very thing that saves my life as it has saved so many others. 
While it has taken a long time to get here, President Trump is delivering on the border wall. Not because he hates the people outside of the wall, but because he loves the people inside. We are a nation of immigrants, his own wife is an immigrant, but he believes in the process. We need to ensure that people are safe within our borders and performing the customary background checks for people who wish to enter this country legally.
Of course, I don't agree with President Trump all the time. His tweets irritate me sometimes and his recent comments about an immigrant Congresswoman didn't have me happy. I am grateful that he disavowed the chants of "Send Her Back" at a recent rally, but I think more should be said about how inherently wrong that is.
President Trump is not without his faults or sin, but none of us are. While the President may be using social media to give opinions that I don't agree with, I also enjoy that we have a transparent President. We always know where he stands. We always know that he will say what is on his mind. As a conservative, he stands up for what I believe in when many on the main stage won't. 
President Trump is unlike any president we have ever seen. He is candid, raw, and tough. I believe President Trump when he says he loves his country. I have seen the work he has put in that makes the lives of American's better. 

Three years ago at this time, I was a #NeverTrumper but now, I will support President Trump in his reelection and it is a dream to go see him at the White House.
All I can say now is…FOUR MORE YEARS.
Thank you for everything you've done for this country, President Trump.