The 2020 election season is in full swing, and here at FFL we're excited to see that there has been
a surge
in Republican women running for public office. We love to celebrate conservative women in all capacities and give our readers a look at what they stand for. 
The filing date for the New Mexico congressional races recently passed, and there are several women running for United States Congress. New Mexico will have their
primary
on June 2, 2020.
Here's what you need to know: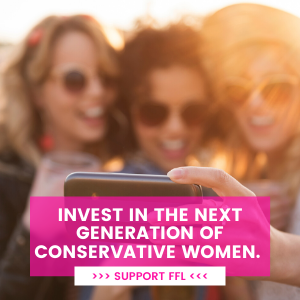 Elisa Martinez (U.S. Senate)
With current U.S. Senator Tom Udall announcing his retirement, several Republicans are vying to flip the seat red.
Martinez
, the founder and current Executive Director of
New Mexico Alliance for Life
, is running in the Republican primary. She is a first time candidate but has worked alongside the New Mexico Legislature, the NM Governor's Office, and Congress on a Select Panel. Her
campaign website
lists her platform of supporting free-markets, working towards energy independence, enforcing immigration laws, and reducing the role of the federal government in education. Cook Political rates this race as Likely D.
Michelle Garcia Holmes (NM-01)
Michelle Garcia Holmes
is one of three Republicans running to unseat incumbent Democrat Representative Debra Haaland. She is a native of Albuquerque and served 20 years in the Albuquerque Police Department, retiring as a detective.
Holmes
was Chief of Staff for former NM Attorney General Gary King and ran for Lieutenant Governor in 2018, losing by about 100,000 votes. In addition to the usual Republican platform points, she is passionate about reducing the cost of higher education, securing funding for laboratories, and keeping America energy independent. Cook Political rates this district as D+7. 
Yvette Herrell (NM-02)
A four-term member of the New Mexico House of Representatives,
Herrell
is looking to flip this seat back to red in an R+6 district.
Herrell
lost to current NM-02 Representative Xochitl Torres Small by 3,700 votes in 2018, flipping the seat from red to blue. She has been
endorsed
by the House Freedom Caucus, multiple members of Congress, many state representatives and sheriffs, and organizations like Gun Owners of America, Susan B. Anthony List, and Freedomworks. She prioritizes cutting regulations, returning education to local control, and expanding internet access to rural areas.

Claire Chase (NM-02)
A first time candidate,
Chase
is running as a political outsider that brings experience from the private sector.
She
is the youngest and first female chair of the New Mexico Oil and Gas Association and has experience as a financial advisor and in government affairs for an energy company. Her legislative priorities include immigration reform, improving New Mexico's education system, safeguarding water resources, and fighting socialism. 
Karen Bedonie (NM-03)
Bedonie
is a small business owner, mother, and member of the Navajo Nation running in New Mexico's 3rd District. She is deeply committed to her identity as a Native American woman but also as a patriot and an American. As cited on her
campaign website
, she is staunchly pro-life, pro-Second Amendment, and is in favor of tax and immigration reform. Cook PVI rates this district as D+8 and the seat is currently held by Democrat Representative Ben Lujan.
Alexis Johnson (NM-03)
An engineer, former consultant, mother, and New Mexico native,
Johnson
is also running in New Mexico's 3rd District. She comes from a family of cattle ranchers and works in the energy sector. On her
campaign website
, she outlines her five platform areas: economy, education, environment, entry into the U.S., and ensuring life. She labels her campaign as a "return to traditional, New Mexican family values".

Note: Angela Gale Morales has registered as a Write-In candidate for NM-03. No campaign website or social media could be located by the author, but a brief write-up of her recent comments is included at the bottom of

this

Los Alamos Reporter

article
.